In board sports, riders are "goofy" stance if they lead with their right foot and "regular" stance if they lead with their left. These terms seem to imply that one way is more "correct" or common than the other. I'm goofy, so I'd like to know just how goofy it is to be goofy. It turns out, a little bit goofy.
I checked out the Skatepark of Tampa (SPoT) skateboarder database, which has been maintained for 12 years and is probably the most extensive and detailed online.  The database consists of professional and amateur skateboarders who've been to SPoT for some reason or another.  Given that SPoT has been host to two of the largest annual contests in skateboarding since the mid 90's (the Tampa Pro and the Tampa Am), you can bet that the best have been through the doors. Note that in skateboarding, the term amateur (or am) doesn't necessarily imply that the person is less skilled than a professional - it only implies that the person doesn't have their name on a product yet.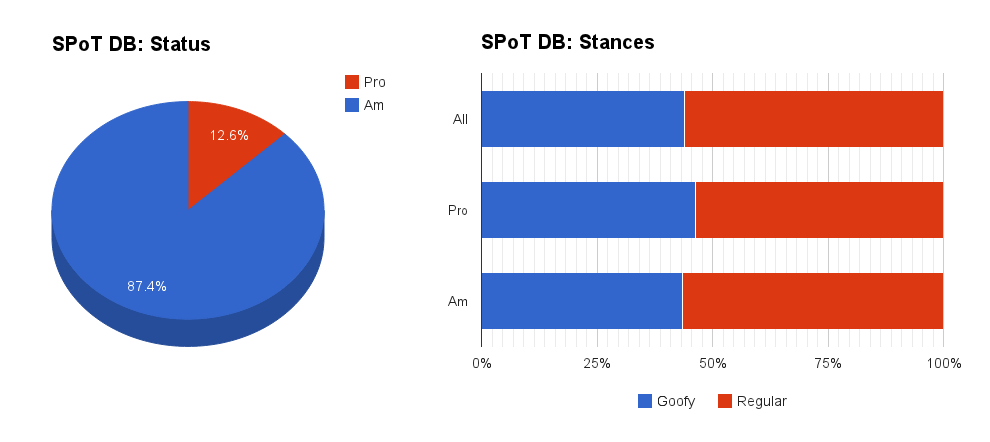 Of the 6,047 profiles examined, 12.6% are pro.   4,030 of these profiles had stance data, of which only 44% are goofy.  I personally find this a bit surprising, as I assumed it would be closer to 50%.  To put it mathily, a chi-square test indicated that the difference from 50% is statistically significant,

  (where

is Cramer's

).
Age
Average
22.79
Median
23
Many of the database entries also included age, which is summarized in the table.  Now, this doesn't necessarily mean that the average age of a competing skateboarder is 23 (I think that may be a tad high). To speculate a bit, I'd guess that the database, which has been maintained for 12 years, adds skaters regularly without deleting older ones.  Assuming that most of the ages are updated over time, the database will accumulate ageing skateboarders who aren't actually active anymore.  For more information about skateboarder age, see this Nerdsday Thursday post.
Also, word clouds are really pretty to look at so, why not, here are the most common first and last names in the database: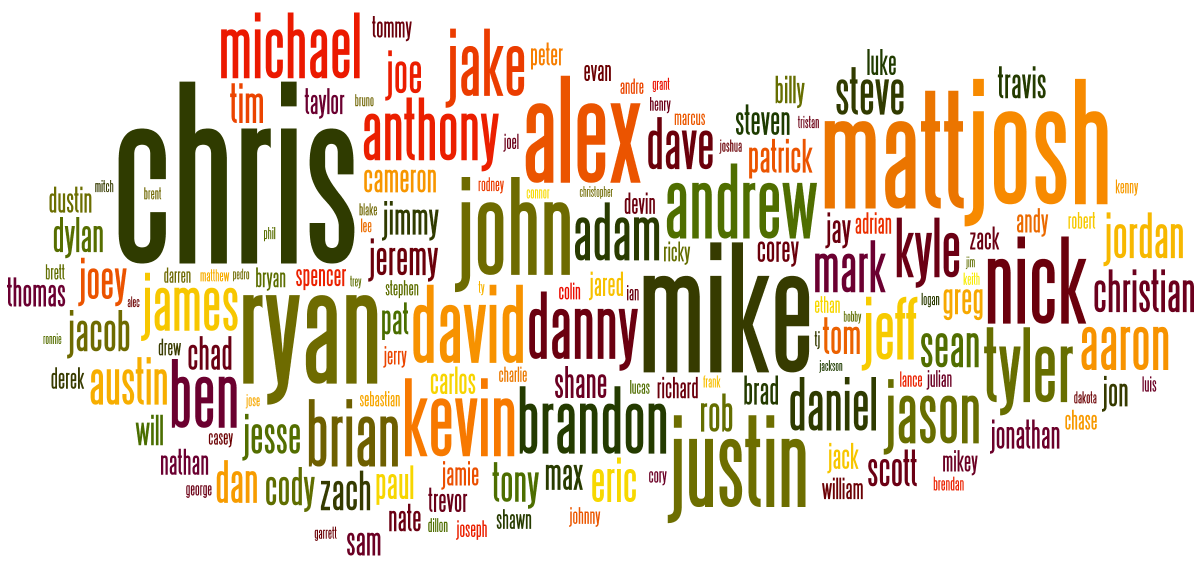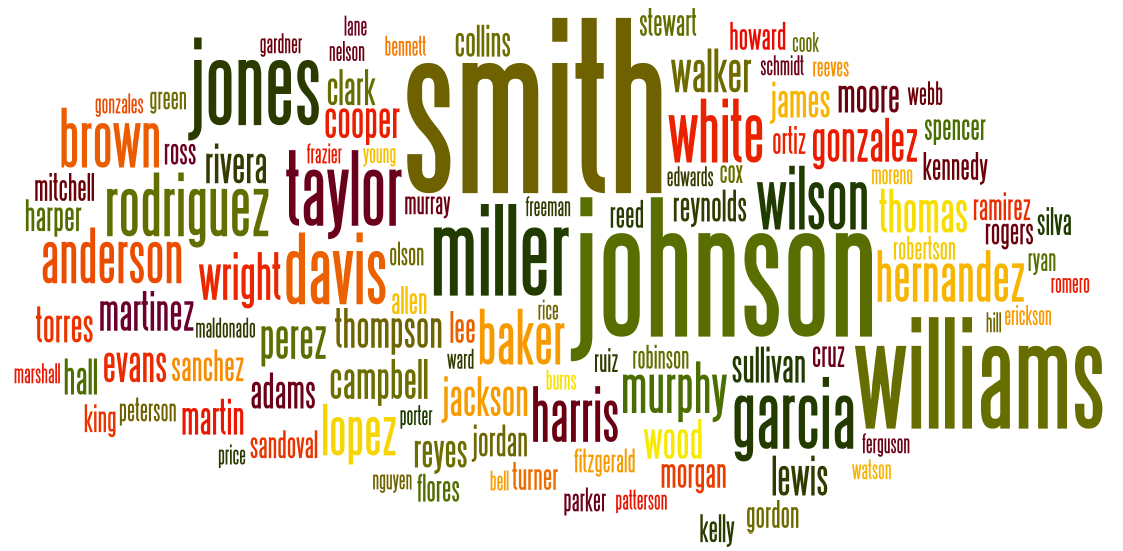 Nothing surprising here, but it does confirm my previous suspicion about the importance of people named "Mike" in the skate industry.  (Or maybe it's just a common name? Who knows, it's a mystery that will never be solved.)
So there we have it, the archetype skateboarder from the SPoT database is Chris Smith, regular, am, 23.  A very interesting follow up would be to see if there is any link between skateboarding stance, footedness in other sports, and handedness.
If statistics gets you pumped up to go skate, you can leave now.  For the other all of you, here's my favorite winning run from the 2011 Tampa Pro, featuring the very goofy Dennis Busenitz: